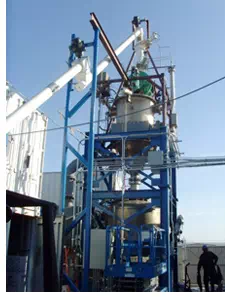 Hazardous Waste Combustion Units
There are two categories of combustion units for solid and liquid hazardous wastes:
Incinerators - used primarily for waste destruction.
Boilers and Industrial Furnaces (BIFs)- used primarily for energy and material recovery.
---
Incinerators
Incinerators are used to burn hazardous waste primarily for waste destruction/treatment purposes; however, some energy or material recovery can occur.
When performed properly, incineration destroys the toxic organic constituents in hazardous waste and reduces the volume of the waste. Since metals will not combust, incineration is not an effective method for treating metal-bearing hazardous wastes. There are many types of hazardous waste incinerators including:
Rotary kilns
Fluidized bed units
Liquid injection units
Fixed hearth units
---
Boilers and Industrial Furnaces (BIFs)
BIFs are typically used to burn hazardous waste for the significant energy and material recovery potential, with waste treatment being a secondary benefit. Boilers typically combust waste for energy recovery, while industrial furnaces burn waste for both energy and material recovery.
A boiler is defined as an enclosed device that uses controlled flame combustion to recover and export energy in the form of steam, heated fluid, or heated gases.
An industrial furnace is a unit that is an integral part of a manufacturing process and uses thermal treatment to recover materials or energy. The following units are considered industrial furnaces:
Cement kilns
Lime kilns
Aggregate kilns
Phosphate kilns
Coke ovens
Blast furnaces
Smelting, melting, and refining furnaces
Titanium dioxide chloride process oxidation reactors
Methane reforming furnaces
Halogen acid furnaces
Pulping liquor recovery furnaces
Combustion device used in the recovery of sulfur values from spent sulfuric acid
---
National Emissions Standards for Hazardous Air Pollutants (NESHAPs) are emissions standards set by U.S. EPA for an air pollutant not covered by National Ambient Air Quality Standards (NAAQS) that may cause an increase in fatalities or in serious, irreversible, or incapacitating illness. The standards for a particular source category require the maximum degree of emission reduction that the EPA determines to be achievable, which is known as the Maximum Achievable Control Technology (MACT). These standards are authorized by Section 112 of the Clean Air Act and the regulations are published in 40 CFR Parts 61 and 63.
The hazardous waste combustors NESHAP (40 CFR Part 63, subpart EEE) was developed in two phases.
Phase I, which addresses hazardous waste burning incinerators, cement kilns, and lightweight aggregate kilns, was originally promulgated on September 30, 1999 (64 FR 52828). These emission standards created a technology based national cap for hazardous air pollutant emission from the combustion of hazardous waste in these devices.
Phase II, which addressed hazardous waste burning industrial boilers, process heaters, and hydrochloric acid production furnaces, which was signed September 14, 2005 (fact sheet). Replacement standards for Phase I also were signed on this date.
Resource Conservation and Recovery Act (RCRA) regulations (40 CFR Part 264/265, Subpart O-Incinerators) which predate the hazardous waste combustors NESHAP govern air emissions from hazardous waste incinerators in certain situations. Specifically, the RCRA rules apply to a hazardous waste incineration unit that were subject to RCRA Part 264/265 permit requirements up to October 12, 2005 (i.e., NESHAP always applies for newer units). However, the RCRA Part 264/265 emissions rules no longer apply when an existing hazardous waste incineration unit demonstrates compliance with the maximum achievable control technology (MACT) requirements, by conducting a comprehensive performance test and submitting a Notification of Compliance. Nevertheless, even after this demonstration of compliance with the MACT standards, RCRA permit conditions that were based on the standards of 40 CFR 264/265 continue to be in effect until they are removed from the permit or the permit is terminated or revoked, unless the permit expressly provides otherwise.
More Information on Air Regulations:
---
If an incinerator burns a listed hazardous waste, the ash is also considered a listed waste. The derived-from rule states that any solid waste generated from the treatment, storage, or disposal of a listed hazardous waste, including any sludge, spill residue, ash, emission control dust, or leachate, remains a hazardous waste unless and until delisted (§261.3(c)(2)(i)). The owner/operator must also determine whether the ash exhibits any characteristics of a hazardous waste.
If an incinerator burns waste that only exhibits a characteristic of a hazardous waste, the owner/operator must determine whether the ash exhibits any characteristics. Ash that exhibits a characteristic must be managed as a hazardous waste.
---
In December 2000, EPA promulgated effluent limitations for the Centralized Waste Treatment (CWT) Point Source Category. This regulation established wastewater discharge standards for facilities that treat or recover metal-bearing, oily, and organic wastes, wastewater. Rule information: http://water.epa.gov/scitech/wastetech/guide/treatment/cwt_index.cfm.
---
Spill Prevention, Control and Counter Measures
EPA promulgated the Spill Prevention, Control and Counter Measures (SPCC) rule to reduce the risk of damaging our waterways from oil spills. These rules are applicable to a very wide range of facilities and operations, including fuel oil storage tanks for boilers. The rule requires specific facilities to prepare, amend, and implement SPCC Plans. The SPCC rule is part of the Oil Pollution Prevention regulation, which also includes the Facility Response Plan (FRP) rule.
An SPCC Plan is required for facilities which due to their location, could reasonably be expected to discharge oil to surface water or adjoining shorelines and have:
Total aboveground storage capacity of 1,320 gallons or more of oil (however, only containers or oil-containing equipment with a capacity equal to or greater than 55 gallons count toward the threshold); or
A total oil underground storage capacity of 42,000 gallons or more (however, underground storage tanks subject to regulation under RCRA [40 CFR 280 or 281] are not included); or
Been required by the EPA to prepare and implement an SPCC Plan.
The SPCC regulations require the facility owner/operator to prepare and implement an SPCC plan for their facility. This plan must be well thought out and prepared in accordance with good engineering practices. It must document the location of storage vessels, types of containment, dangers associated with a major release of material from the tanks, types of emergency equipment available at each site, and procedures for notifying the appropriate regulatory and emergency agencies.
To assist facility owners and operators with SPCC compliance, EPA has published a useful document: Spill Prevention, Control, and Countermeasure (SPCC) Regulation.
More resources on SPCC:
Applicable rules: 40 CFR 112.
---
Applicability Tool. This tool is designed to help you assess whether your facility would be required to report greenhouse gas (GHG) emissions as required by EPA's Mandatory GHG Reporting Rule.
General information: http://www.epa.gov/osw/hazard/tsd/td/combustion.htm.
RCRA, Superfund & EPCRA Hotline Training Module Hazardous Waste Incinerators (1999).
NESHAP Toolkit: http://www.epa.gov/osw/hazard/tsd/td/combust/toolkit/index.htm.
Timeline and Background Information for Maximum Achievable Control Technology (MACT) for Hazardous Waste Combustors. Summaries and links to documents 1999 to 2006.